Bed bugs are small, brownish, oval insects that feed on animal and human blood. An adult bed bug is roughly the size of an apple seed, but its body swells when it feeds. Bed bugs cannot fly, but they can crawl quickly over ceilings, floors, and walls. A female bed bug can lay hundreds of eggs over her lifetime. Under optimal conditions, they can mature in as little as a month, and they can spawn multiple generations per year. Read on to learn more about how to get rid of them and prevent further problems.
Where do Bed Bugs Hide?
Bed bugs can enter a home through clothing, luggage, used furniture, and many other items. The bed bug's flat body makes it easy for it to fit into a space as thin as a credit card. Bed bugs do not make nests, but they live in groups. Common hiding places include box springs, mattresses, bed frames, and headboards.
Over time, bed bugs may spread throughout the home, inhabiting even the smallest crevices. In severe cases, they can spread to nearby apartments. Because blood is the bed bug's only food source, an infestation does not indicate an unclean home.
When Bed Bugs Bite?
Bed bugs are primarily nocturnal, biting people as they sleep. They feed by piercing the victim's skin and drinking blood through a straw-like beak. A feeding can last up to ten minutes, and it usually goes unnoticed. Bites are typically painless to start, but they can turn into uncomfortable welts. Bed bug bites can occur on any exposed skin, unlike flea bites, which usually occur around a person's ankles. To confirm an infestation, the bed bugs must be found and identified by a company specializing in bed bug pest control in Utah.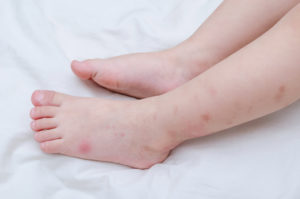 Bed Bugs are Making a Comeback
Bed bugs have been prevalent throughout America's history. Despite dramatic decreases during the 40s and 50s, the United States is now experiencing a significant resurgence in bed bug infestations. Like many other states, Utah is seeing an increased level of infestations in hotels, apartment complexes, and single-family homes.
The reasons for the increase in bed bug population are unclear. Although pest control experts believe that it may be due to the bugs' resistance to modern pesticides, it may be linked to increased travel, lack of knowledge on pest control, and a lack of education on prevention.
How Does a Home Become Infested?
These nasty pests can be picked up almost anywhere, but gyms, stores, hotels, and offices are prime candidates. These bugs are good at hiding, and they are known to come in on personal belongings, luggage, and people. Once the home is infested, bed bug removal is difficult without professional help. However, homeowners can reduce their chances of infestation with early detection and pest control for bed bugs in Salt Lake.
Easy Tips to Prevent Bed Bug Infestation
De-clutter the home. When there is no clutter, it is easier to find bed bugs before they spread.
Launder and dry bedding on the hottest possible settings.
Carefully inspect second-hand furniture before bringing it indoors.
Inspect the home after travel, moving, service appointments, or overnight guest departures.
Are Bed Bugs a Serious Problem?
A female bed bug can lay up to 500 eggs in a lifetime, and they can live for almost a year with normal food supplies and room temperatures. Bed bugs may carry diseases, but they are not known to pass them on to people. The bugs only feed on blood, and victims' responses to bites are varied. Early detection is essential in preventing them from spreading, and a pest control specialist can assess the home, find solutions, and provide ongoing monitoring of bed bug infestations.
During the assessment phase, the specialist will inspect the home for evidence of an infestation. Areas such as rugs, beds, furniture, and crevices will be examined, and the technician will look for signs such as live and dead bugs, cast-off skins, fecal matter, and eggs.
When the inspection is completed, the pest control expert will recommend a treatment plan. If bed bugs are present, the tech will use modern tools and methods to treat the infestation in a way that is safe for the family and the environment. With proper treatment, adult bed bugs are targeted and larvae are prevented from reaching maturity.
It is difficult to eliminate bed bugs in Utah, and the technician may have to perform follow-up visits to ensure the treatment is effective. Additionally, visits are documented and the technician will recommend other ways to maintain the home and prevent further problems.
Contact Beeline Pest Control to schedule a professional technician to inspect and eradicate the bed bugs in your home – (801) 544-9200
Did you know?
Beeline uses products that are approved by the EPA and rated for use in Hospitals, Day Care Centers, Restaurants and Veterinary Clinics.
- OR -
Complete the quick form below
Get a Quick Quote
Complete the form below and an agent from our team will contact you right away.