Bed bugs. They used to be nothing more than a footnote in a children's nursery rhyme, and now their name alone inspires righteous fury from homeowners, renters, and parents all over Salt Lake City. As an increasingly prevalent issue facing more and more individuals and families, bed bug infestations have been on the rise in the valley for years with victims desperately looking for ways to spot the problem and take care of it before it spirals out of control. Most residents feel that they're protected from the issue because they live in clean, hygienic homes— but bed bugs are crafty, and can set up shop in even the most spotless environments. And once they arrive, they're difficult to get rid of. Beeline bed bug pest control offers the careful detection and complete eradication of these unwelcome guests, providing a full service solution for bed bugs in Salt Lake City. We've also provided this go-to guide on avoiding bed bug infestations, spotting them once they arrive, and ridding your home of them once and for all.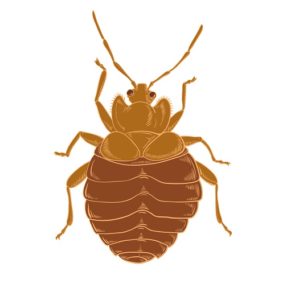 What Are Bed Bugs?
Bed bugs have been following humans around, thriving off our blood, for thousands of years. They are attracted to our breath and settle into the spaces where we spend the most time. Their name accurately conveys their love of our sleeping chambers, but they're also frequently found in other furniture including couches and between floorboards. They're small little nuisances, but are visible to the naked eye even as eggs, and adults look a lot like small ticks that swell up with blood after feeding. (Gross, we know.) Bed bugs can make their way into your home any number of ways. They might hitch a ride in on some clothes or a suitcase, or can even journey from another infested home or apartment. If an infested host moves away or leaves on vacation, bedbugs are known to travel great distances to find new hosts to infest. Basically, they're the worst.
How to Spot an Infestation.
There are a few warning signs to look out for in a bed bug infestation. The first red flag you might notice will be itchy bites on you or a member of your family. These bites will look similar to mosquito or small spider bites— they aren't inherently dangerous, as bed bugs don't carry diseases to humans, but they will be incredibly uncomfortable or even painful.
If you suspect you that you might have bed bugs, take a close look at your mattress. Bed bugs usually leave behind eggs, larva, or molted skin.  You might even find tiny smears of blood left behind after a night of feasting. Full size bed bugs might also be visible, though they'll only be about the size of a small seed. Beeline bed bug pest control experts have the experience necessary to spot a bed bug infestation well before it becomes a major issue, so if you're hearing reports of bed bugs in the area but haven't yet seen any warning signs in your home, call Beeline to schedule a thorough inspection of your home to spot the infestation early on.
What to Do Once You're Home is Infested
Though there are a few different methods in treating bed bug infestations, experts all agree on one thing— you shouldn't try to handle bed bugs yourself. Sketchy methods like bug bombs and home remedies have unfortunately been proven time and time again to be mostly ineffective and even downright useless in taking care of bed bug infestations. Experienced pest control companies like Beeline have the critical expertise and equipment necessary to spot an infestation, eradicate every single bed bug in your home, and and ensure that they don't make their way back into power. Using advanced technology and a focused and powerful approach, Beeline will spot your infestation, treat it early and provide you with all of the information you need to move forward bed bug-free.
If you think you might have an infestation or want to take measures now to prevent one, call Beeline Pest Control today to set up a visit. Don't live with bed bugs or let yourself worry that they're on their way— call Beeline, the number one destroyer of bed bugs in Salt Lake City at (801) 544-9200.
Did you know?
Beeline uses products that are approved by the EPA and rated for use in Hospitals, Day Care Centers, Restaurants and Veterinary Clinics.
- OR -
Complete the quick form below
Get a Quick Quote
Complete the form below and an agent from our team will contact you right away.