Pest Control in the Spring in Utah
As the snow begins to melt and temperatures warm up a bit in Utah, robins and crocuses are not the only signs that spring has arrived: chances are good that you're also being invaded by newly-awakened pests. Insects that have lain dormant all winter are now in search of food, and they are most likely to come indoors to do it. Here are some of the earliest "unwanted guests" in the Beehive State and what you can do about them.
Ants

It should come as no surprise that ants are the Number One pest problem in the United States, and they certainly make their presence known in homes up and down the Wasatch Front. Both odorous and non-odorous species are potential threats, but they all have one thing in common: they'll eat virtually anything! If food is not readily available, they'll go elsewhere. So, be sure to:
Keep food in sealed containers
Empty your kitchen garbage container often
Wipe up spills immediately and keep counters clean
Frequently vacuum areas where food is consumed: family room, dining room, kitchen, etc.
Keep pet dishes clean and remove spilled food from their eating areas
Box Elder Bugs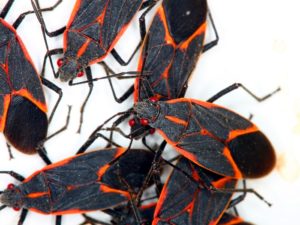 Although box elder bugs are not dangerous, they are definitely a nuisance. Their feces can stain clothing and furniture, and they reproduce so quickly that it doesn't take long for them to overrun a house. The best way to keep them out of your home is to be sure that all doors and windows are properly sealed along with other nooks and crannies: it is extremely easy for box elders to squeeze through any tiny openings.
Cockroaches

We all know how resilient cockroaches are. Their slow cell cycles and their simple exoskeleton bodies allow them to withstand 15 times more radiation than humans (source). Although we receive plenty of phone calls during the middle of winter for cockroach pest control, springtime in Utah is when they come back in force.
If either ants, cockroaches or box elder bugs are invading your space, contact the Utah pest control professionals at Beeline Pest Control. Our experts can get your springtime insect issues under control early so that you can enjoy a more peaceful, pest-free season. Call today (801) 544-9200
Did you know?
Beeline uses products that are approved by the EPA and rated for use in Hospitals, Day Care Centers, Restaurants and Veterinary Clinics.
- OR -
Complete the quick form below
Get a Quick Quote
Complete the form below and an agent from our team will contact you right away.