How to Keep Wasps Away from invading your home
Wasps are a big problem for house owners, who spend too much time outdoors. If wasps don't allow your family to enjoy BBQ in your garden, you need to take action immediately.
Luckily, there are effective pest control solutions that you can use to get rid of wasps quickly and successfully. There are many ways to remove wasps and stop them from coming back. In this guide, we'll tell you how to keep wasps away from your BBQ.
So, let's get started.   
Why are Wasps So Dangerous?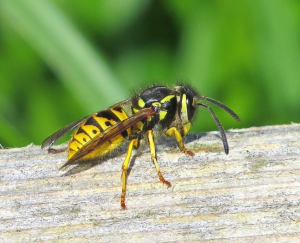 Wasps are very aggressive pests that can attack people as well as animals. Flying insects sting their victims. It's worth noting that wasp stings are very painful and uncomfortable. 
Wasps feed on protein in summer and spring. In the fall, wasps prefer to feed on sugars. 
The BBQ area releases delicious aroma that attracts wasps to your yard. 
Products to Use to Keep Wasps Away from BBQ 
Keeping wasps away from the garden can be hard. Some people think that it's enough to kill wasps. So, they just swat the wasps. However, this is a big mistake.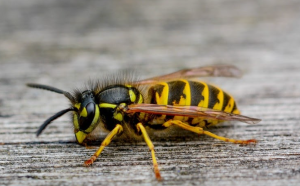 When the insect is killed, it releases the pheromone. The pheromone attracts wasps from the surrounding areas. As a result, more wasps will come to your garden.
The wasp control process consists of three stages. These include: 
You have to find out what attracts wasps to a yard.

You have to get rid of wasps.

You have to prevent wasps.
In fact, there are many ways to control wasps. Now, we'll give you insights into the most effective pest control methods that you can use to get rid of wasps.
Repelling
Repelling is a great way to protect a yard from wasps. If wasps come to your yard again and again, then there is something that attracts them. And of course, you have to do something about this problem.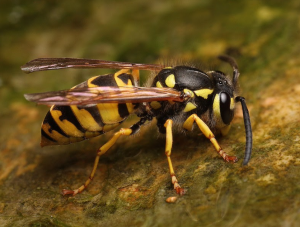 One of the best things that you can do if you find yourself in such a situation is to limit the attraction. You have to create the line of defense that protects your yard from wasps. It's possible to repel wasps in a number of different ways.   
– It's important to know that wasps are highly territorial insects and they don't build nests close to each other. That means that wasps don't intrude the areas that are occupied. So, you can take advantage of paper bag nests to keep bees and wasps away from your picnic and BBQ area. You will find it easy to turn a paper bag into a fake wasps nest. After that, you need to hang a fake wasps nest near the BBQ area in your yard. By doing so, you'll be able to create the illusion that the territory is already occupied by wasps. As a result, wasps will stay away from your yard. Watch the video on how to use fake wasp nests to scare off wasps. 
– Sliced cucumbers make it possible for you to keep wasps away from your BBQ area. The reality is, cucumbers contain an acid property. If you slice cucumbers, an acid property will be released in the air. As a result, wasps will stay away from your BBQ area and you will manage to enjoy your outdoor activities. 
– You can also use garlic clove and lemon to control wasps in a natural way.
– Peppermint is another effective natural repellent that works well for wasps.
– If you are interested in a pest control solution that provides long-lasting effects, then you can plant wasp repelling plants in your yard. Consider such plants as lemongrass, mint and wormwood. Growing these plants in your yard will help you effectively protect your living environment and provide long-lasting results.     
If repelling methods don't work and you can't get rid of wasps, then it would be better for you to consider other pest control solutions.    
Traps
It's a good idea to use traps to catch wasps. You can use DIY traps for getting rid of wasps. The main idea of traps is to attract and kill wasps.
Watch the video on how to build an effective DIY wasp trap! 
A trap consists of a container. Wasp traps are easy to enter and very difficult to escape. The container can be filled with vinegar, sugar and salt.
However, it takes some time to get rid of wasps with the trapping method. If you don't have time to wait, then you have to consider other pest control solutions.      
Sprays
Sprays also work well for wasps. You can take advantage of either ready sprays or apply the mixture of soap and water to wasps and their nests. Such a mixture causes wasps to suffocate. 
Dish soap can be also used for wasps. This method requires dish soap as well as a container with a spray attached to it. This solution is cheap, non-toxic and effective. It takes a few seconds to kill wasps this way. Watch the video on how to kill wasps with dish soap! 
How to Prevent Wasps in Your Yard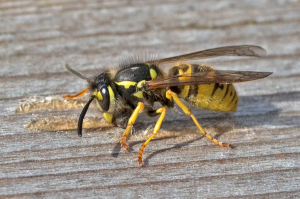 Oftentimes, the areas that contain foods attract wasps. That's why it's so important to thoroughly clean up your BBQ after use. Any excess food should be removed. Rinse BBQ plates and grills with hot water. Finally, you have to dry everything completely.

Seal all trash cans in your yard properly.

Berries as well as fruits should be harvested and removed from your yard in time.

Don't store pet foods outside.

      
Generally speaking, the areas that contain food attract wasps. That's why any food sources should be removed. This will help you prevent a wasp infestation.   
Conclusion
As we have already said, you shouldn't swat wasps. This is something that should be avoided. There are effective ways to remove wasps. Take advantage of repelling, traps or sprays to get rid of wasps.
It's important to note that getting rid of wasps requires special knowledge as well as experience. That's why you may find it difficult to remove wasps on your own. So, it would be better to leave this important task to real professionals.    
Contact pest control professionals to get an effective solution to your wasp problem. At Beeline Pest Control, we are always looking forward to assisting you with any of your wasp control needs!    
Did you know?
Beeline uses products that are approved by the EPA and rated for use in Hospitals, Day Care Centers, Restaurants and Veterinary Clinics.
- OR -
Complete the quick form below
Get a Quick Quote
Complete the form below and an agent from our team will contact you right away.