Termite Exterminator Experts | Beeline Pest Control of Utah
Did you know 1 out of every 5 homeowners in the state of Utah is battling a termite infestation at this very moment?
Industry statistics state that roughly 20 percent of Utah homeowners are experiencing some level of termite damage at any one time. While the Utah Department of Agriculture reports that it takes several years for extensive termite damage to occur, homeowners are always encouraged to be proactive and monitor their property for signs of termites to minimize the threat of harm. Since the primary termite found in Utah is a subterranean variety, the single easiest sign of termites is the mud tunnels they build on foundations between the ground and a home's wood components. However, there is a significant reason to consider contacting Beeline Pest Control for an evaluation of your property before visible signs are detected.

Ways to Prevent Termite Infestation
Fix any leaking pipes or faucets as soon as possible

Eliminate water near your home's foundation

Throw out rotting wood, or old paper to eliminate termite food sources

Regularly inspect your indoor and outdoor furniture for signs of termites

Open up all the vents in your home

Close all potential points of entry by sealing off cracks and holes in walls and near doors.
Our team will gladly share strategies to keep pests, including termites, at bay.
If you need a termite inspection click here to complete our online form
Early Detection Saves Money
Because so many Utah homes are likely to experience termite infestations, it pays to be proactive in controlling their populations. Beeline Pest Control technicians are trained to spot early signs of termites and develop strategies to exterminate them before they can create severe damage to a home. Once colonies are well established, ridding a home of the pests becomes more difficult and, unfortunately, expensive.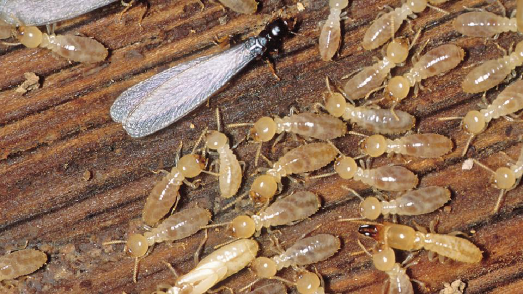 Can Homeowners Eliminate Termites Without Professional Help?
The short answer is yes, but there are important factors to consider before attempting any do-it-yourself exterminations.
Professionals have the training and experience to locate colonies and determine the best methods to eliminate those settlements. If all termites are not eradicated, the population will quickly be replenished, and the problem won't be resolved.
Exterminating termites in Salt Lake City, Utah requires the use of chemicals. While Beeline Pest Control experts are trained in the proper handling of appropriate chemicals, the majority of homeowners have no experience or training in their use. That means the owner, their family, and pets are at risk if the wrong chemicals are used, or they are applied incorrectly.
Defining the parameters of the treatment is also important. Trained professionals understand the importance of locating active colonies and determining how extensive the treatments must be to be effective. Untrained homeowners, on the other hand, may not treat a sufficiently large area, which leaves the home open to a renewed infestation. So, while a homeowner may try to eradicate a termite infestation, those efforts are rarely successful. Before spending money and potentially endangering the home's occupants, discuss treatment options with a Beeline Pest Control expert.
How Does Beeline Pest Protection Eliminate Termites From Area Homes?
Before any actual treatments can begin, it's important to understand the type of problem present. Termites are not always visible, which means the Beeline Pest Control experts must first determine where the pests are entering the home and how much damage is already present. That isn't always easy, which makes it even more important that homeowners contact an expert as soon as any sign of an infestation is noted.
Once a complete inspection of the home and surrounding property is conducted, a plan can be provided to control the termites. If the infestation is caught early, that process is simple. However, the more time the termites have to establish their colonies, the more difficult eradication can be. Because termites are difficult to locate, it pays to leave this process to the experts rather than attempting to deal with the issue using questionable over-the-counter products.
The Beeline Pest Control team will review their findings and extermination strategy with homeowners so everyone understands what must be done. Because chemicals will be used, precautions will be taken to prevent any threat to the home's occupants or pets. Working closely with a professional makes the process easier and safer.
Over 4,400 5 Star Reviews
Beeline Pest Control is a service-first business. If you're not satisfied with our service, we'll do whatever it takes to make it right. Read more about your guarantee.
Reviews from Utah Residents
"Beeline is the best! They were at my house the very next day and completely got ride of my ants"
Terry, Utah
"We had some issues with bed bugs. Beeline's price was the best and service was great. No more bed bugs for us"
Jake, Utah