Box Elder Bug Pest Control | Beeline Pest Control of Utah
Box Elder Bugs are well known as one of the most annoying bugs because they come by the thousands. But, most people are completely unaware of the damage they can do to your home and the risk they pose to your health.

Yet another unpleasant side-effect of Box Elder Bugs.
We have observed that homes with Box Elder Bugs seem to have an uncommonly high number of wasps. These wasps seem to be lurking around where the largest populations of Box Elder Bugs are. It appears that the wasps are "hunting" the Box Elder Bugs. Regardless of what they are up to, there is clearly a correlation of increased wasps when large numbers of Box Elder Bugs are present. Although, the Box Elder Bugs don't bite or sting, the wasps certainly do and more wasps means a higher likelihood that someone is going to get stung!
Box Elder Bugs, a health risk?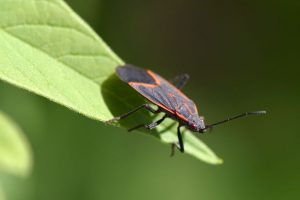 With our extensive experience dealing with these bugs, we have long suspected that they were related to the patterns of asthma problems that we were noticing from Utah residents who were calling us to help with their Box Elder Bug problems. We never had the resources to do a real scientific study to confirm this suspicion. In recent years, however, several universities and medical organizations have conducted studies which confirm that some patients symptoms of Rhinitis, Allergic Conjunctivitis, and Asthma were due to sensitivity to Box Elder Bugs. Don't take any risks with these invaders. We have a very effective treatment for Box Elder Bugs. Although these are flying bugs and are quite mobile, we can still provide a guarantee with our treatment. These are best taken care of during the spring, summer and fall when they frequently sunbathe. If you wait until winter and you have them living inside your walls, they are much bigger problem to deal with.
Damage to Property?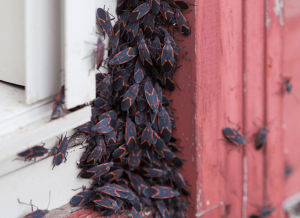 I have read several articles over the past twenty years written by people who clearly live in areas that don't get the kind of Box Elder Bug infestations that we get here in Utah. Time and again I see the claim that these bugs are a nuisance, but don't cause any real damage. Although this seems true for minor infestations, it doesn't always hold true when you get the severe infestations that we get here. Large populations of these bugs will leave stains from their feces on vinyl siding, vinyl windows and painted surfaces. These stains can be difficult if not impossible to remove, leaving your home with an old, worn out or dirty look which will effect the value of your property. Not to mention, if you squish/squash/smash them on your wall or carpet the will leave a stain there as well, along with an unpleasant odor. Don't mess around with these pests. Our customers often express their surprise at how effective our Box Elder Bug treatments are even though they are a flying bug. Give us a try and see for yourself.
Although Boxelder bugs move much like locusts, they won't swarm in and devour all your trees, flowers and autumn crops in one fell swoop. With some larger infestations, they have been known to eventually destroy trees and other surrounding plant life they choose to call home. They're not looking to raid your pantry or silently eat your home right out from under you. While any number of reports insist they don't bite, those of us who've felt their sharp little pinpricks might argue that point. That being said, they don't have venom, break the skin or cause adverse side-effects.
The Boxelder bug's ingrained safeguard against predators does not produce a pleasant scenario. When these insects feel threatened, or happen to be smashed by a shoe or rolled-up newspaper, they give off a noxious odor. Whether as a result of being squashed or simply going about their daily routines, they also tend to leave stains in their wakes. Aside from both those facts, having them congregating in the upper corners of your bedroom while you're trying to sleep or accidentally dropping in on a meal can be a bit unnerving.
Some reports suggest getting rid of any female Boxelder trees on your property, but committing mass arborcide isn't necessarily the answer. They'll still be attracted to other plants as well as the heat radiating from your home. Standard off-the-shelf bug sprays aren't usually effective on these particular invaders, either. If they do kill off some of the ones causing you grief, more are likely to follow.
When they find their way inside, you can gently collect them on newspapers or dust pans and send them back to the great outdoors. If you decide to sweep or vacuum up the larger crowds, be sure to have plenty of air freshener and stain remover on hand just in case. Keep in mind, you'll need to repeat these processes over and over again until professional intervention arrives.
Read our in-depth information about Box Elder Bugs 
Are Box Elder Bugs Harmful, click here to find out
We're Here for You
At Beeline Pest Control, we offer a number of safe and effective treatments for Boxelder bugs in Utah. Whether you're looking for reactive or proactive solutions, we can help. You don't have to cut down your trees and shrubs or level your gardens. You also don't have to lose your yard and home to these invaders.
As a leading Boxelder bug exterminator in Utah, we provide services in Salt Lake City, Ogden, Orem, Sandy, Provo, South Jordan and other areas in Utah. To find out more about our services, visit our 'Get a Free Quote' page and fill out the form or call us at 801-206-4020.
Fast, Effective Box Elder Bug service with a guarantee
Because Box Elder Bugs are a flying pest, many companies will not offer a guarantee for their treatment. Our treatment is so effective that we do offer a guarantee! Of course, you can always have some random Box Elder Bugs fly in at any time, but our treatment will initially kill off 99% of the existing population on your home. After that, it will keep kill off the new ones that fly in from the neighbor's houses and begin sunbathing on the side of your home. If you don't feel like it gets rid of at least 90% of them or better, just let us know and we'll come back out for free.
Over 4,400 5 Star Reviews
Beeline Pest Control is a service-first business. If you're not satisfied with our service, we'll do whatever it takes to make it right. Read more about your guarantee.
Reviews from Utah Residents
"Beeline is the best! They were at my house the very next day and completely got ride of my ants"
Terry, Utah
"We had some issues with bed bugs. Beeline's price was the best and service was great. No more bed bugs for us"
Jake, Utah