What Does The Yellow Sac Spider Look Like?
Spiders of this type tend to be very pale with a stomach that ranges in color from yellow to beige, yet they can also be a cream color or slightly green. As a result, people should never try to identify the spider based solely on color. They have a stripe that runs lengthwise across their abdomen that tends to be slightly darker in color also. The average male is between four and eight mm, and the average female tends to be between five and ten mm. Humans find these spiders are easy to distinguish from other common house spiders, as the bottom of their legs do not point inward or outward, like most spiders' legs do.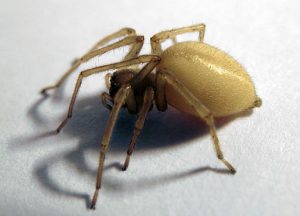 The name yellow sac spider comes from the fact these spiders do not create webs. Instead, they make a sac, typically found in a corner of the home close to the ceiling. They may also be found in the foundation of a home, window sills, garden sheds, garages and more. Sometimes, the spider even builds their sac near a baseboard in the house.
Where Are Yellow Sac Spiders Found?
Yellow sac spiders choose to live outdoors under various objects during the summer. They often like to hide in wood piles, trees, leaf piles, bushes and gardens. In addition, they like small, hidden places anywhere in a yard. As the weather starts to cool and their food source begins to disappear, they prefer to head indoors. Individuals will find them on walls, in many cases, or in the corners of ceilings. If a home has walls and ceilings painted a light, neutral color, this is where the spiders will often hide as well, since they blend in with the walls or ceilings. If someone disturbs the spider, they will fall to the floor, and they prefer to come out at night.
What Happens When A Yellow Sac Spider Bites A Human?
Spiders of this type have fangs that can easily penetrate a human's skin. This often occurs when the person is engaging in an outdoor activity, such as gardening, and they may not even see the spider until they are bitten. Unfortunately, bites may also occur in the house, however, as the person may come across the spider, unaware that it is there until it is too late to avoid the bite. This may occur when the spider becomes trapped in clothing, a person's shoe, or when they become entangled in bed linens. These bites may occur even when the spider is not provoked, thus it's best to eradicate them whenever and wherever possible.
The yellow sac spider possesses venom, although it is not strong enough to lead to death. The person who receives the bite may experience some symptoms, however, and the bite is extremely painful when it occurs. The individual may notice some swelling, redness and itching in the area of the bite, and medical professionals often mistake the symptoms, attributing them to a brown recluse spider bite. Within 72 hours, the redness typically goes away, although the skin may not heal for a week or two.
In certain cases, a person may develop a more severe reaction to the bite. Some people develop muscle cramps, nausea, fever, and malaise. In very rare cases, a necrotic lesion and ulceration may be seen at the site where the person received the bite. Be aware that these are very rare, and the average person has symptoms that affect the skin and little else, but one can never know how they will react.
Avoiding Yellow Sac Spider Bites
Shake clothes out before putting them on to avoid a spider bite. In addition, try not to put a bed up against a wall, as this will help to prevent bites while a person is sleeping. Keeping spiders out of the home initially remains the preferred option, however. Make certain all doors and windows in the home have tight-fitting screens, and seal any cracks or crevices that may allow these pests to invade the residence. Yellow lights installed on porches can be of help also, as they deter insects that make a choice meal for spiders. In the event these methods don't work and spiders continue to be an issue, call an exterminator for assistance.
Contact Beeline Pest Control in Utah to eradicate this spider from your premises. Spider elimination is one of the many pest control services they offer, and they deal with a variety of species, including the yellow sac spider, the black widow, and the hobo spider—three venomous spiders commonly found in the state. Don't try to tackle this problem on your own, although there are certain steps you can take. Clean up your home and yard and install spider traps to catch these critters before they take over the house. Call on Beeline Pest Control to handle the rest. People sleep better knowing their home isn't infested with spiders, and you will too.
Did you know?
Beeline uses products that are approved by the EPA and rated for use in Hospitals, Day Care Centers, Restaurants and Veterinary Clinics.
- OR -
Complete the quick form below
Get a Quick Quote
Complete the form below and an agent from our team will contact you right away.