From organic solutions passed from generation to generation to more modern methods designed to drive nasties out of your home, everyone has their favorite pest control solution. Take a closer look at some of the most common remedies for the pests that plague homes. Not everyone is willing to "do-it-yourself" when it comes to pest control, and sometimes the job is just too big. But in case you have the inclination, or you just need a few tips about methods of pest control, here are some for you to consider; many of these should be helpful either way, whether you try it yourself, or if you hire us here at Beeline Pest Control in Utah.
Spray Chemical Pesticides
Chemical pesticides involve applying poisons onto the surfaces pests come in contact with. It also gets into the air which pests breathe in.
Chemical pesticide sprays can also be toxic to your pets and family members. Never mix different pesticides, and only use them according to the manufacturer's instructions. Remove all pets and children from areas you spray and remove or cover any food or cooking utensils. Do not spray areas often touched by family members, like tables and benches. Leave the room while the spray is taking effect, and open windows for ventilation on your return.
When spraying outside, close your home's windows and doors. Only spray on clear, fine days because wind and rain can reduce the effectiveness of pesticide sprays.
Using Organic Insect Repellent
If the thought of spraying chemicals around your home leaves you cold, you could opt for an organic homemade pest solution. Jillee, the American blogger behind One Good Thing, swears by a mix of 45 drops of peppermint essential oil, 15 drops of lemon or orange essential oil, and 8 ounces of apple cider vinegar, witch hazel, or vodka. Simply mix the ingredients together in a spray bottle and apply liberally when you spot any insects in your home. This homemade repellent should last two to three months if refrigerated.
Lay Down Baits
Baits are another chemical solution employed by many homeowners. Poisonous baits can kill both the animal that ingests them and, in some cases, other pests it lives with.
Baits are poisonous, so they can also be toxic to pets and small children. Make sure you keep them away from these vulnerable family members. Also make sure the areas you lay baits in are free of food scraps and other debris which may distract pests.
Leave Traps for Pests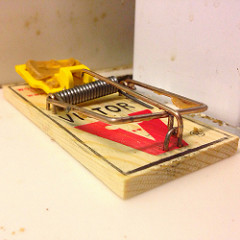 Traps capture the pests in your home so they can't bother you or cause damage. Many use pheromones to lure the pests inside. Some traps also kill the pests while others simply hold them so you can release them far from your property. Some traps, such as traditional mouse traps, can injure small children so lay them away from play areas.
Plant Smarter to Control Pests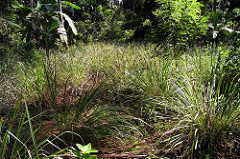 The plants in your garden can also play a part in controlling pests. Some plants like basil, lavender, mint, and lemongrass repel pests. Others, like dill, dandelions, tansy, and marigold attract beneficial insects which are the natural predators of garden and home pests. Consider which pests you have in order to choose the best plants for your garden.
Make Your Home Unattractive to Pests
Finally, you can make your home unattractive to pests. Clean your home regularly, making sure to keep dishes and surfaces free of crumbs, grease, and food scraps. Reduce clutter, like stacks of newspapers and piles of leaf litter, which give pests places to hide. Fix any leaks and drips that provide water sources for thirsty critters. Seal the gaps and cracks around your windows, doors, and in walls that provide easy access for opportunistic pests. This is one of the best methods of pest control.
Not everyone has time or the inclination to learn enough about pesticides and other methods of pest control to manage it themselves. And let's face it— some of you are just plain skittish about the whole thing. Beeline is here for you. We promise to take the hassle of pest control off your mind.
Remember, not every remedy will work well for every type of household pest. Even different types of ants eat different types of food, so correct identification is crucial.
If you can't seem to drive the pests from your home, then seek professional help from Beeline Pest Control. Trust us to remove bed bugs, wasps, termites, mice, and a host of other nasties from your Beehive State home. Call us at 801-544-9200 to solve your pest problem.
Did you know?
Beeline uses products that are approved by the EPA and rated for use in Hospitals, Day Care Centers, Restaurants and Veterinary Clinics.
- OR -
Complete the quick form below
Get a Quick Quote
Complete the form below and an agent from our team will contact you right away.